With Covid-19 we have all seen quite a change in the way our lives work now. However, organisations like Limerick Suicide Watch group have been hit hard by the pandemic as they depend on fundraisers and donations from the public to raise money and awareness for their cause.
Limerick Suicide Watch focus on patrolling the river to identify and provide support to those in distress and who may be at risk. They also visit schools, colleges, and places of work to promote mental health awareness and encourage conversation around mental health and suicide.
Throughout Covid-19, the Limerick Suicide Watch group has continued to do their patrol of the river four times a week, their patrol teams are on duty Monday, Tuesday, Thursday, and Saturday nights. These patrols are very important for the safety of struggling Limerick people with their mental health who may be contemplating suicide.
On these patrols, the team are now required to follow the Covid-19 social distancing rules put in place by the government.
In 2018, Limerick Suicide Watch developed a new app to help save lives as part of their awareness programme. The app allows members of the public to access various mental health services, family support, drug and alcohol services, and homelessness in just a few clicks.
Organisations featured on the app include Pieta House, Grow, Samaritans, Gosh, Novas, and more. It was developed to provide an easier way for families and persons in distress to access the services required within a matter of seconds.
This app has proved to be very helpful throughout the pandemic. They are now looking into new ways to improve the app and make it more accessible and faster access to the app for people who need it.
At the start of June, Limerick Suicide Watch was delighted to roll out their most recent programme called the 'Community Outreach Programme'. Their volunteers will be travelling in their Mobile Support Unit to different communities in both Limerick City and County. These volunteers welcome the public to come over and say hello, have a chat, and learn about what they do. The trained volunteers will be there to talk with anyone who might be feeling distressed or simply looking for advice whether for themselves or someone they might know.
To get updates on where the Community Outreach team will be you can follow them on Facebook and get updates on where the team is and if they are in your community.
Limerick Suicide Watch also have big plans moving forward to increase their services to the people of Limerick, premises of their own would allow them to create and adapt to the needs of Limerick and possibly provide more riverside services, not only to those in distress but for their families also. For a new premise to be viable they are hugely reliant on the public to raise funds as they are not government funded.
This year they have been chosen as one of the charity beneficiaries for the Cook Medical Virtual Women's Mini Marathon. This annual event which was launched recently by Mayor Michael Collins is now in its 22nd successful year of running and is one of the many events that give their charity the foundations to continue with the much-needed service. They encourage as many people as possible to register for this event and choose Limerick Suicide Watch as their chosen charity, or simply donate what they can towards their cause.
Elaine Leahy, LSW Public Relations Officer wishes to express the group's gratitude towards the people of Limerick saying, "All the Limerick Suicide Watch volunteers are extremely thankful for the fantastic support from the people of Limerick and surrounding communities, companies and services. Without their support, generosity and fundraising their registered charity would not be here today."
Download the Limerick Suicide Watch APP for free from their website HERE for a number of Mental Health, Family Support, Drug anyone Alcohol and Homeless services available throughout Limerick City and Country.
Some important numbers to keep at hand if you need someone to talk to:
Samaritans Limerick 061 412111
Pieta House 061 484444
Pieta House 1800 247 247
Aware 1800 80 48 48
Teen Line 1800 833 634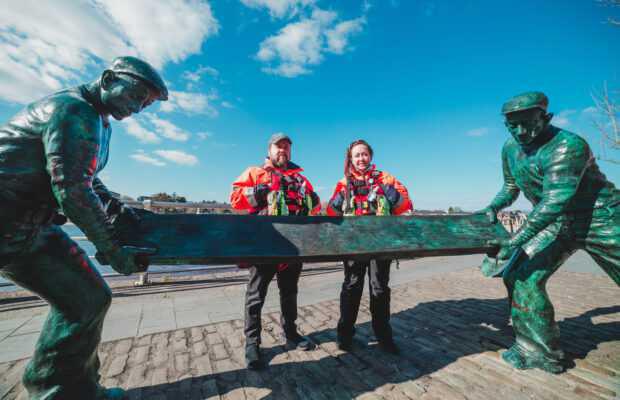 https://www.ilovelimerick.ie/limerick-suicide-watch-group/