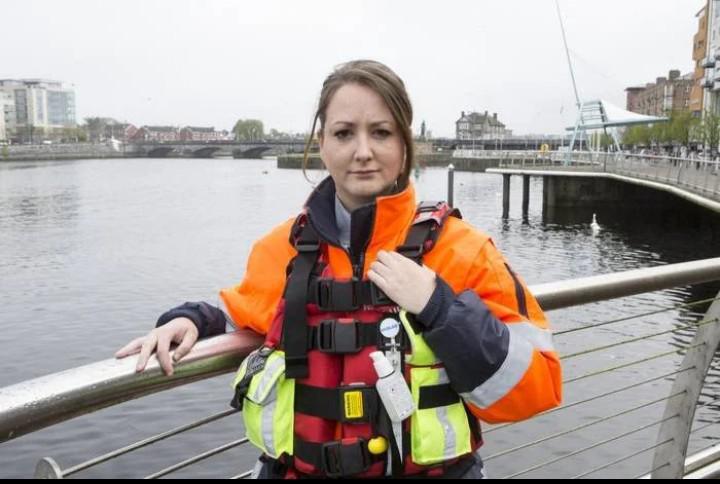 'The old man broke down in tears. We were the first people he'd spoken to in 6 weeks' - Volunteers saving people in crisis
Early on Saturday a 200,000-strong army of Darkness into Light walkers made their way through towns and villages across the country to deliver the message: 'Your life matters'. Our reporter talks to those at the coalface of an ongoing battle
Four nights a week a group of volunteers assemble at Limerick City's Docker's Monument, a sculpture that celebrates the camaraderie that existed between men who earned their living by might.
Donning personal flotation bags and waterproof jackets and armed with binoculars and communication equipment, they begin their evening's work. These volunteers rely heavily on one another and their camaraderie has seen them through many tough nights.
They never know what a night will bring but the reason they're out in all weathers is to save lives; to intervene and stop someone taking their own life.
Limerick Suicide Watch was set up in May 2016, a year when provisional figures estimated there were 400 deaths in Ireland by suicide. Over the last two years they've had 180 interventions. All volunteers have completed suicide intervention skills training provided by the HSE. The city's suicide watch volunteers work in teams of three, with eight to ten volunteers out on Monday, Tuesday, Thursday and Saturday nights. Often they walk 10k a night along the Shannon River or cycle 20k if they're on bikes.
Thirty-two-year-old Lucy O'Hara would often notice the rescue helicopter from Valentia Island overhead and wonder about what happened to the person they were called out to help. "I wanted to do something to help. I would have known families affected by suicide myself. Our goal is to help as many people as we can and save families from losing someone they love," says Lucy.
In some cases when they're on patrol, people will come up to them just to have a chat. In other cases team members observe someone who is displaying behaviour that means they may need help.
"You know by their demeanour, by how they are reacting to things. This work teaches you how to talk to someone. When we meet someone we automatically say 'how are you?' Some people may not react. The hardest thing for us is to ask a person 'are you suicidal?'" says Lucy.
In some cases two volunteers may have to physically restrain a person at the river's edge while the third volunteer calls emergency services. Sometimes they can talk someone out of entering the water. Lucy says they never know what's going to happen on any given night.
"There was an elderly man once and when we approached him he didn't want to talk to us. He had his back turned to us but the minute we asked if he was OK, he broke down in tears. We were the first people he had spoken to in six weeks. He was very lonely. He had nobody," she says.
"What we do is get a person talking for 15 minutes or for an hour and then we'd phone someone they want us to contact. A lot of families haven't a clue what has been going on because people hide how they feel," says Lucy.
On another occasion volunteers encountered a teenage girl who was very upset and distressed. When family members arrived, they had no idea the girl was feeling under so much pressure.
"We meet so many different people every night we go out. We meet people with different things going on in their lives. It might not be a big thing to you but it's everything to them. People just need to talk. They need to know it's OK to talk," says Lucy.
A year after Limerick Suicide Watch stopped a young man from taking his own life, a volunteer met his mother at an event. She introduced herself by throwing her arms around the team member.
'It's nice to hear those happy stories'
"She was so thankful her son had progressed. He was happy and he'd gone back to college and he had a girlfriend. Sometimes we might get an email from a family member. If we're out on patrol someone might come up and tell us something about a family member. It's nice to hear those happy stories".
Because of the nature of the work, after an intervention volunteers have a debriefing session. Counselling services are available to them and Lucy says the after care for them and support they get is great.
"It's not all doom and gloom," she says. "We meet people and we talk and we have the craic. The amount of support we get is unbelievable. People will come up and shake our hands and say 'thank you'. It's like they feel there's safety at night when we're out patrolling.
"We marshal every year at the Darkness Into Light walk. It's very touching - thousands of people are coming towards you from the angle we see it at. The silence is amazing," she says.