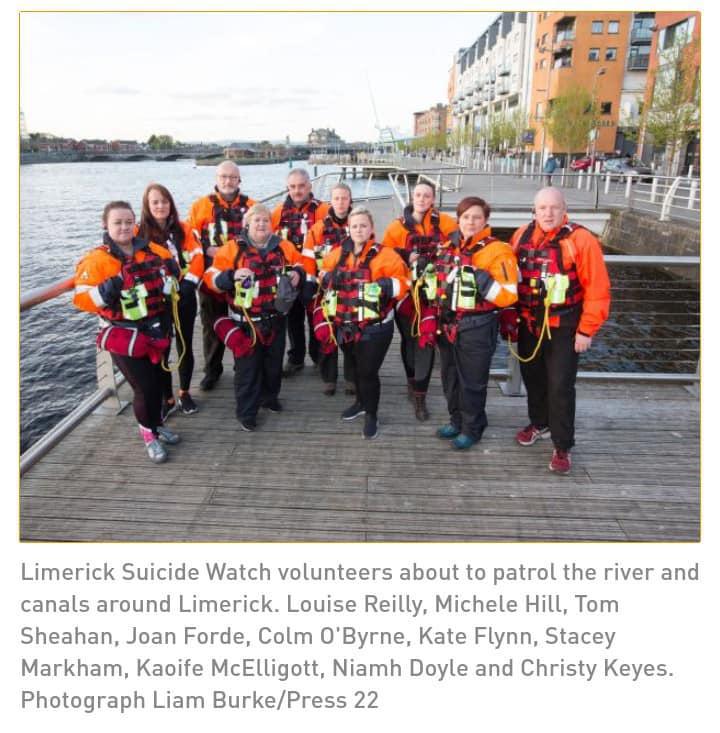 https://www.irishtimes.com/life-and-style/health-family/limerick-suicide-watch-you-have-to-be-nosy-trust-your-gut-1.3591946
"They started calling it the 'mechanical banshee'. It would have been here on a fairly regular basis so people had associated the helicopter coming with people in the river, and more often than not there was. You'd hear it and go 'oh no. Not again.' It's so loud and comes so low, all of Limerick can hear it. And it was because of that, all of this started."
Standing in the base of Limerick Suicide Watch, the group's chairperson Colm O'Byrne is telling me how the volunteer crew started out patrolling the city's river, trying to prevent death by suicide, with just a few people operating out of the back of a car.
Since 2010, Limerick city has had the highest rate of suicide in the country. The most recent figures from the National Office of Suicide Prevention shows the city's rate was more than double the national average at 21.8 deaths per 100,000 population for 2013-2015. For Dublin, the figure is 7.3. The national average for the same period is 10.1.
The bridges along Limerick's river Shannon are monitored every night of the week, with Limerick Suicide Watch and another voluntary group, Corbett Suicide Prevention Limerick, each covering different days.
Since it started in 2016, Limerick Suicide Watch says it has saved 180 lives.
'Serious interventions'
"They would be serious interventions. That'd be physically taking people down off bridges and walls, or where you talk to somebody who is sitting on a bench but who intends on going into the river," says O'Byrne. Sometimes, people have jumped while a volunteer was talking with them.
Valentia Coast Guard (R116), which attends to emergencies on the river Shannon, says the number of calls it has taken since the group started "is definitely down".
While, in many cases, Limerick Suicide Watch is able to calm the person, call a friend or family member to come take them home, and, hopefully, get the help they need, other situations are even more challenging. "You meet others who know a lot about suicide intervention, they know all the techniques of Asist [Applied Suicide Intervention Skills Training] that we use and so when we are trying to give them all the reasons they shouldn't take their own lives, things like their friends and family, they have a counter argument for each," says Joan Forde. "It's happened to me twice, with two different people. In those cases we had to call the police."