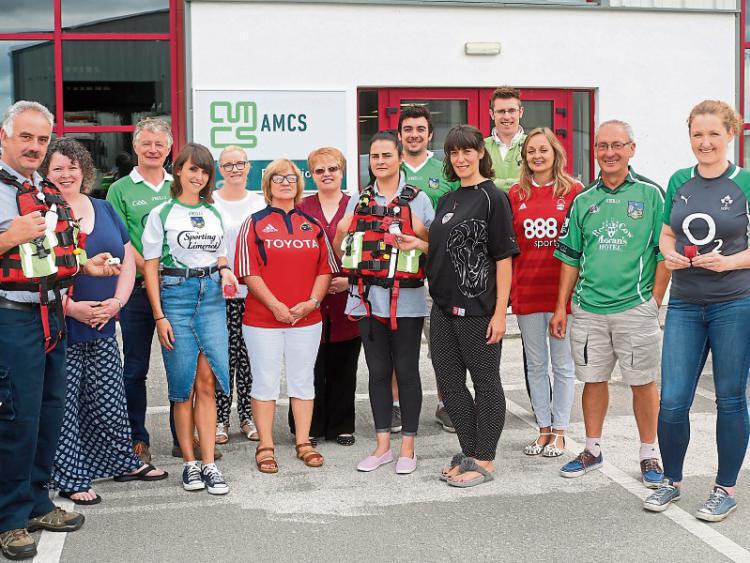 A COUNTY Limerick-based company has given back to the local community by supporting Limerick Suicide Watch.
AMCS, a leading supplier of integrated software and vehicle technology for the waste, recycling and material resources industries, is headquartered in Fanningstown, Crecora.
As part of their Corporate Social Responsibility initiative, AMCS partnered with Limerick Suicide Watch, a suicide prevention group that patrols the river and bridges in Limerick looking to meet people that might be in distress or contemplating suicide and help them.
Employees of AMCS fundraised by holding a bake/produce sale at their office and a music night with the talented Brigadoon in the Locke bar, as well as an office jersey day. Fundraising was generously matched by AMCS. From the proceeds, water activated LED lights and keychain CPR face masks were purchased for use by Limerick Suicide Watch volunteers.
Colm O'Byrne, chairperson at Limerick Suicide Watch, said: "All support to the group is very much appreciated. Knowing we have the support of the community really does help motivate us on the cold, wet, dark nights when it would be easier to stay indoors with our families."
Itzi Borreguero, AMCS CSR co-ordinatotor said: "It is fantastic to be part of AMCS, where employees go the extra mile to give back to the local community in Limerick."
Earlier in 2018, AMCS also contributed to Redhill School Limerick by purchasing outdoor exercise equipment for users of the facility. AMCS have chosen Mental Health as the area of focus for Corporate Social Responsibility for 2018.
https://www.limerickleader.ie/news/home/329248/limerickcompany-supportslimerick-suicide-watch.html