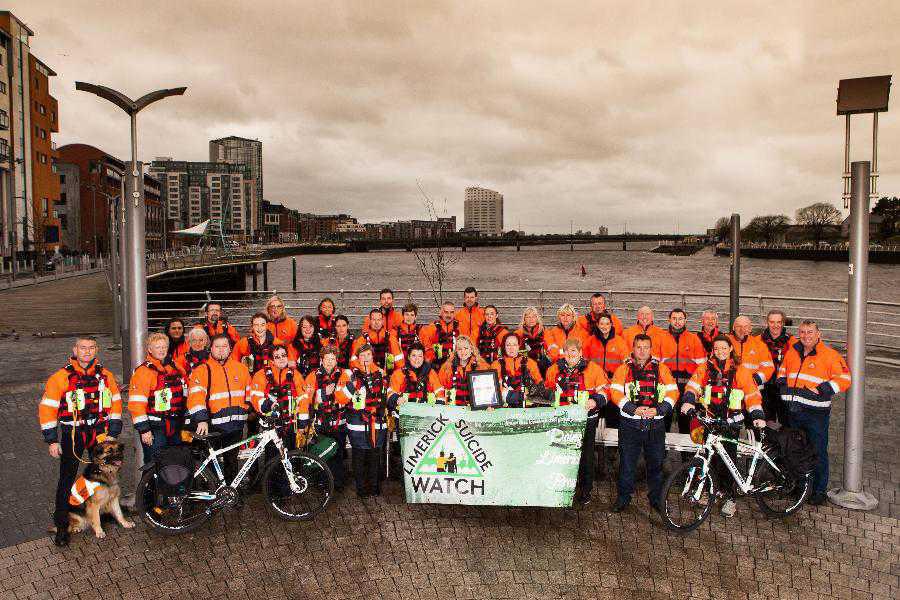 Limerick Suicide Watch is a Suicide Prevention Group formed in May 2016, we patrol the banks of the River Shannon and the 7 bridges in Limerick City helping people who may be in distress or contemplating suicide. Since we formed we have had 200+ interventions.

At present we have 62 volunteers with 8 on probation. Our recruitment officers are working on bringing a further 10 on board over the coming months bringing us to 80 members. We are lucky enough to have a waiting list of people looking to join limerick suicide watch.

At the moment we patrol 4 nights per week. , Monday 8pm , Tuesday 9pm, Thursday 9pm and Saturday 12 midnight for a minimum of 4 hours. We have at least 8 people out on patrol which is split into two walking patrols and a bike patrol. On average we would walk approximately 10km and cycle 20km each night.
It is our intention to expand this to 7 nights in the future. Each volunteer is over the age of 25 and has been Garda Vetted before they go on a patrol.

We ensure each of our volunteers are fully trained in - Applied Suicide Intervention Skills Training (ASIST), CPR, Defibrillator, First Aid, River rescue Training, Child Protection & Manual Handling. The safety of our volunteers and the members of the public is very important to us.
Our main aim is to help people who maybe feeling distressed or suicidal getting them safely away from the water's edge. We often get in contact with a family member or a friend they would have a close connection with and ask them to meet us. Other times when it may be difficult to calm a person we will contact emergency services i.e Gardai and ambulance services.
We have built a great relationship in Limerick City with all the Emergency services. (Limerick Marine Search and Rescue, Gardai, ambulances fire service, the coast guard). We all work hand in hand to ensure the safety of the person who is distressed or feeling suicidal

Every volunteer wears a PFD (personal flotation device), a throw bag, a waterproof high visibility jacket with each team carrying a first aid bag, Radios, and a high beamed torch, the bike team will carry the same along with the defibrillator.
It cost approximately €450 to ensure each volunteer has the necessary equipment to patrol.
We rely solely on donations from the public and companies as we are not government funded.


On September 28th @8pm, St. Mary's Cathedral we will be launching our "Limerick Suicide Watch" APP it will be an easy way for members of the public to access information regarding the various mental health services that are available to them. It is a one stop shop where the many mental health service providers in Limerick City and County can promote their services while making it easier for families and persons in distress to access the information on the services required.

We have noticed many people are not aware of the many services throughout limerick that are available to them, We are hopeful the APP will be of benefit to those in distress, suicidal or of use to somebody who may be concerned about a person's wellbeing.Creating the awareness of these services may save a person's life.

The App will be updated at regular intervals to highlight a variety of events being held throughout the year. Details of the events planned for Limerick Mental Health Week (5th October -12th October) will be available on the APP when released. Self -care workshops, exhibitions, family fun days. etc. will be available on the APP throughout the year.

The APP is designed and laid out in such a way that it can be used very easily. All you do is Click the section, 'Help Services', The APP will give a brief description of each of the services on offer, a contact phone number, a link to an email address, a map showing the location and access to the service providers website. If using your phone, one tap on the phone number will bring the phone number up on screen allowing you to contact the service directly.
It is geared towards all ages from teenagers to senior citizens from all walks of life, students, farmers, doctors, councillors and so on. The intention is to make it easier for everybody to access information regarding services and tools to manage their own mental health.
We are extremely grateful to Declan Hayes and his team from the Appiercom for supporting and creating this magnificent APP for Limerick Suicide Watch free of charge.


We would like to say a big Thank you to fundraisers, the public, organisations and businesses for helping to support Limerick Suicide Watch. The support we receive from the people of Limerick City & County is fantastic. Without the help and support of so many people, Limerick Suicide watch wouldn't be where we are today.

We have a 5 year plan in place and the results are starting to show. We have secured both our charity and revenue numbers, our members are insured and procedures and policies are in place to ensure the reputation of Limerick Suicide Watch remains second to none.
https://www.alustforlife.com/the-bigger-picture/saving-lives-one-patrol-at-a-time