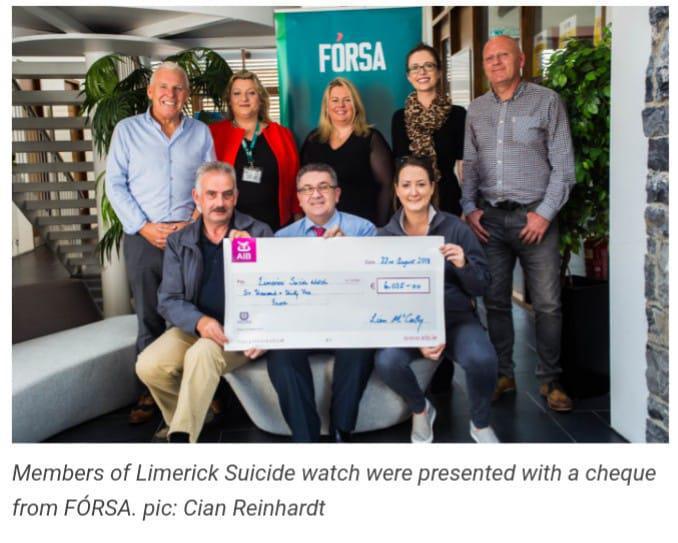 MEMBERS of FÓRSA Trade Union presented Limerick Suicide Watch volunteers with more than €6,000 raised from a recent charity cycle, which saw participants cycle from Limerick to Killarney.
Limerick Suicide Watch is one of four charities chosen this year, and the group made a donation of €6,035 on the day.
Lucy O'Hara, Limerick Suicide Watch said the money will go a long way with the organisation:
"We are really grateful to other organisations who come together to help us, it's great having the support from so many different people.
"Without the support, we wouldn't be able to patrol and keep doing what we're doing. We've had more than 200 interventions in the last two years.
Eamon Donnelly, Head of Health and Welfare Division in FÓRSA, who spoke highly of the members of Limerick Suicide Watch at the presentation mentioned "the trade union is not just about representing workers" but can help out in the community also.
"Originally, back in 2008, myself and a colleague, Dessy Robinson, decided we should do something for charity. We didn't quite know what," Eamon explained, the two decided to use the biennial Trade Union Conference as an opportunity to "try and help small charities, that don't get mainstream funding".
Lucy mentioned Limerick Suicide Watch are hoping to recruit 20 more volunteers in the coming weeks and says the money would be used to help kit-out the new recruits.
"To kit one person, it would cost €450, then you've got the maintenance of the building, our bikes, and the equipment for all our volunteers."
The Limerick Suicide Watch volunteer noted it costs approximately €35,000 per year to run the organisation, so the money raised in the charity event will go a long way.
https://www.limerickpost.ie/2018/08/24/forsa-cycle-raises-funds-for-limerick-suicide-prevention/