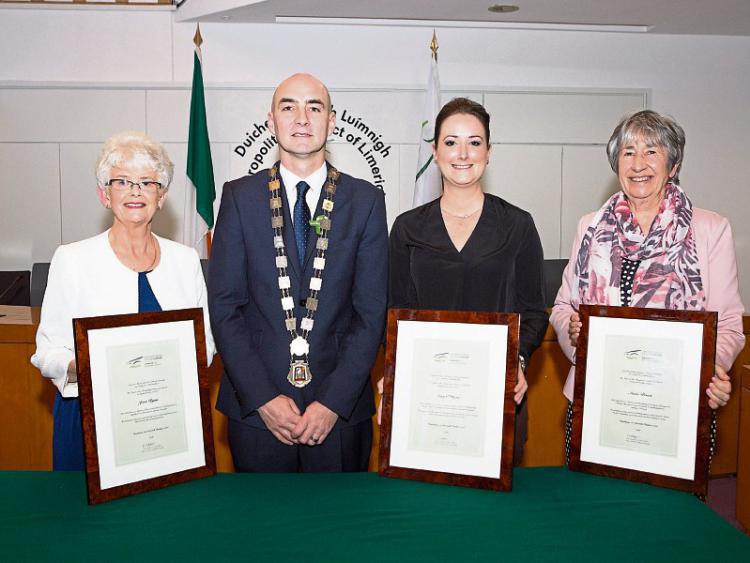 TO mark Limerick Mental Health Week, metropolitan mayor Daniel Butler has honoured three people who have played an insurmountable role in supporting people in the city.
Cllr Butler invited Samaritans stalwart Jean Ryan​, Marie Breen, who helped set up Le Cheile and Lucy O'Hara, Limerick Suicide Watch to share in a special reception in City Hall.
"When I give these receptions, people often ask: why me? I think what you will find with the guys here is this common theme of humility. It's that incredible humility they have to business and service," he said.
Each recipient received a commendation from a close friend or colleague in their mental health organisation.
One of them, John Downey, said of Jean: "Within many organisations, there are those that go above and beyond. Jean is a bit of a superwoman when you think about it. She is so deserving of this honour. I hope her family and friends are as proud of her as we are and acknowledge all the great work she has done for so many people."
For her part, Jean said: "I'm still speechless about getting this. I'm still in shock at the call I got from Daniel. It means an awful lot to me. There is so much need for people to be there for the suicidal. We know it, we hear it from all the calls we get to the Samaritans she said."
Jean, who also draws up the rotas for the Samaritans staff at Barrington Street, also used the occasion to put out a call for more volunteers to join the service, which provides a round-the-clock listening ear to people in distress.
It was also an emotional moment for Lucy O'Hara, who has given years of service to Limerick Suicide Watch, which provides patrols of the River Shannon.
The team, which goes out several nights a week, keeps an eye out for people who may be considering taking their lives in the river.
Lucy said: "Limerick Suicide Watch has helped me come along in leaps and bounds personally. For me to give back to you, and the people of Limerick means a lot. And to be recognised like this – I never in a million years thought i'd get any award like this, from the mayor of Limerick."
Sinn Fein councillor John Costelloe said: "I've known Lucy many years. I'm living on this majestic Shannon River, and late in the evening-time when it's dark and we're all at home watching television with our loved ones, you'd often look out of the window and see beacons meandering along our river bank, stopping every now and then. They make the banks of our rivers and streets so safe – I cannot express the love we feel for Limerick Suicide Watch."
Marie Breen was responsible for securing te funding to open Le Cheile in Sexton Street.
The service, aimed at people in isolation and experiencing depression, provides a range of activities like painting classes, writing classes, and indeed just the chance to catch up over a cup of tea and a biscuit or cake.
And that is so important, she said: "People feel isolated and coming to Le Cheile makes them feel good – to be able to play games, have a cup of tea and meet each other."
https://www.limerickleader.ie/news/home/341938/limericks-mental-health-trailblazers-get-very-special-reception.html?fbclid=IwAR28aezbL4AxUBJ2ZxViYhdrMqCwo0itm1yWqk58raek8piF21vgHB8q4HE#.W8WBgU6Vx30.facebook