The River Shannon is not just a picturesque backdrop but a powerful economic driver for generations of Limerick people.
It might be considered a lifeline for Limerick, but too often it has taken life from the City.
The sound of Shannon Rescue helicopter 115 is so familiar and unsettling that it has been referred to as the 'mechanical banshee.'
"I don't think there's anyone who doesn't know someone who has gone to the river to end their life."
Those are the words of Joan Forde, Liaison Officer of Limerick Suicide Watch.
The city bridges are monitored every night of the week by voluntary groups like Limerick Suicide Watch.
Since their inception in 2016, the group have recorded more than two hundred interventions.
There are currently 69 volunteers with the group, with a list of people waiting to be trained and recruited on to the team.
Volunteers receive training in a wide variety of disciplines such as Applied Suicide Intervention Skills Training (ASIST), Cardio Pulmonary Resuscitation (CPR), defibrillator training, First Aid, Self-harm Awareness, child protection courses and river training.
Many of the volunteers have connections to suicide, but Joan believes this is also the case for most Limerick people.
"It might not be in their immediate family, it could be a work colleague, in your local club, in your school."
Joan and Christy, who also volunteers with Limerick Suicide Watch, have both been touched by suicide.
So, how they do it, encountering suicidal individuals on such a frequent basis when their own heartbreak is still so raw?
"It's to stop someone else" Joan replies.
It's an ongoing battle and Limerick Suicide Watch are on the front line every week.
It's hard, Joan acknowledges, "but if you're doing something that will help someone else, it gives you a reason to do it."
"You're trying to say to people think. Please think. Think of the ripple effect, how long it lasts. It never leaves. It never goes away."
"The question left behind is always – why?" Christy says.
"I mean if they had said to any of us… we would have gone through a wall for them."
"We were at a concert in 2006, The Eagles concert. Went up on the Saturday, went to the concert, came down the Sunday, had a great weekend. I was at work Monday and I got a phone call."
There's a silence that falls then. Everyone is thinking of when they got that call, or trying to imagine what it must feel like.
With Limerick's suicide rate twice the national average, it stands to reason that too many local people have got that call.
It's become "part of the norm", the team acknowledge.
They're eager to acknowledge too that mental health and suicide have no age barriers.
"Whatever it is that makes people feel they don't want to be here anymore," Joan says, "that despair can hit anyone at any time."
"53. 31. 21" – Christy is pointing to photos of his loved ones on the table.
The group recently encountered a 13 year-old on the brink of suicide.
"It's not unheard of for younger children to get those feelings," Joan said.
Joan believes that not everyone who comes down to the river is doing so with the intention of taking their own lives.
She feels some people are hoping they'll "bump into someone," perhaps on a subconscious level they aren't even aware of.
Michael McInerney is one of the more recent volunteers on the team and he says that at some stage he may have viewed suicide as a selfish act.
"Not any more," he says.
"Not after seeing the ins and outs of it."
Christy agrees and talks of the family he lost to suicide, their selflessness, the lengths to which they went to help others.
The painful irony.
"The way they would help somebody else, but didn't go and look for the help themselves."
Michael says their main role is just to listen.
"You have people who are depressed, and want to talk, they might not be any bit suicidal. But if they went a bit further into their darkness, you don't know what way they'd feel."
"If you're just there to listen to them, nine times out of ten, they'll do all the talking."
"It's just despair," Michael says, "And a lack of hope, a lack of purpose."
"It's like being in a black, dark tunnel. Just trying to find a door," Christy continues.
Limerick Suicide Watch can be that door for people. The light in the tunnel.
"We've had people that we've helped and they've come back months later or the following year and thanked us, their lives have turned around," Joan says,
"I think that, for a lot of people, it's not that they come to the river being in such a depth of despair that they want to take their own lives. They're in pain and they don't know how to stop the pain. It's more about how to stop the pain than wanting to die."
"When they've had that one person, or two people, or three, say 'we care and we'll get help' it can turn things around"
Michael said it can take a bit of coaxing to get people talking sometimes, once they get started "it's like a weight lifted off them."
For the volunteers, there's a buzz in it too," Michael says.
"It's good to know that person went home safe that night. A little bit happier."
"You feel you're doing something worthwhile," Joan says.
"We don't have the answers. Nobody does. All we can do is try and be there at the time and stop them. To talk to them."
"If I start to count in my head, apart from the people that I know well, close friends or relatives, I am gone into double figures. Just people that I know. Whose names I know. Whose families I know."
"That's hard," Joan says, "The pain and the hurt, the ripple effect that goes out to everybody. Their families, their friends, their colleagues."
Christy Keyes has lost three loved ones to suicide: "The pain they were going through, that's gone, but unfortunately…", his voice trails off.
"It's transferred" Joan finished.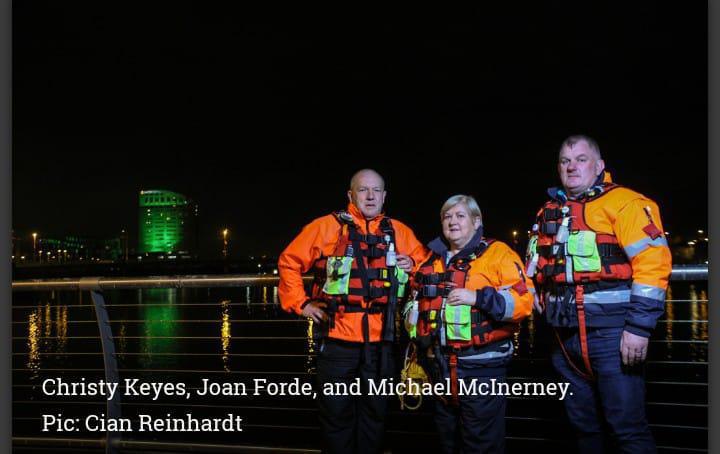 https://www.limerickpost.ie/2018/11/08/the-watchers-who-point-a-way-out-of-the-darkness/?fbclid=IwAR18vqeREu5lxKfBurcziz9EUKj-0O3NovLncBesWogSbu4xHqGPTkrnv3Y