2020 has been a year that has turned everybody's world upside down, but none more than the non-profit charities that rely on the kindness of donors to do what they do. Limerick Suicide Watch (LSW) is one of the many charities of Limerick that are suffering a loss of funds because of the pandemic sweeping the world.
Limerick lady Karen Ryan decided to do something that would help raise funds for this worthwhile charity. With the help of her friends in the cabaret and modelling network, Karen decided to put together a raunchy 2021 calendar that she would then sell and have all the funds go to LSW.
Limerick Suicide Watch is a non-profit charity whose focus is to keep eyes on the River Shannon and identify and provide support to those I distress and who may be contemplating suicide. Their patrol teams are on duty Monday, Tuesday, Thursday, and Saturday night.
This group relies solely on donations from the public and fundraising events to fund uniforms, jackets, PFD's, and any other essential gear.
Karen, recognising their struggle, jumped headfirst into finding a way to help them. The title of the calendar is 'stripping it back' to recognise the vulnerability that comes with both being sexy on camera and the vulnerability someone feels when opening up about how they feel to other people.
The Stripping it Back 2021 charity calendar is on sale now online. There are many fabulous people involved in the calendar, both national and international models, burlesque acts, pole artists, and many other talented people. The calendars are €12 each, including postage for Ireland, however, outside of Ireland extra postage will apply. Karen hopes that they can have all the calendars sold by Christmas so that LSW can have as many funds as possible available for them for one of their busiest and hardest times of the year.
When speaking about the motivation behind the calendar Karen said, "I adore Limerick City, but the rate of suicide here is very high, every time we hear the helicopter, we shudder, and we bless ourselves. We now associate the river with death. I know we have a lot of very helpful crisis centres and helplines, but the fact remains that the bravest people are the beautiful souls who patrol our bridges at night, keeping watch for those in distress."
"LSW truly deserves all the fundraising they can get, and I only wish I could do more for them. I do some part-time modelling and I've wanted to do something for a while so one day a couple of weeks ago I decided to reach out to some fabulous folk in the cabaret and modelling network to see if they wanted to be involved, everyone jumped at the opportunity."
"Due to lockdown, we had to get creative for some high-resolution photos but we pulled it off with the help of our fabulous photographer friends. I hope to be able to give this deserving charity as much as I can before Christmas. The calendars are €12 each and that includes postage within Ireland but outside of that I would ask that postage be covered to make sure that Limerick Suicide Watch gets as much as possible."
She added, "I am so grateful to everyone who has helped to make this a reality and I hope to turn it into a movement using the hashtag "StrippingItBack". I've always believed that there is such strength in vulnerability and that communication is so important in battling our demons. Once you say things out loud to a friend or write them down, it's often easier to deal with. Stripping it Back is about just that, baring your soul, taking down your walls, allowing yourself to be honest and vulnerable because once you are, more often than not, the problems find solutions."
Contact charitycalendar2021@gmail.com for more info or contact Karen on Instagram @bambikawen.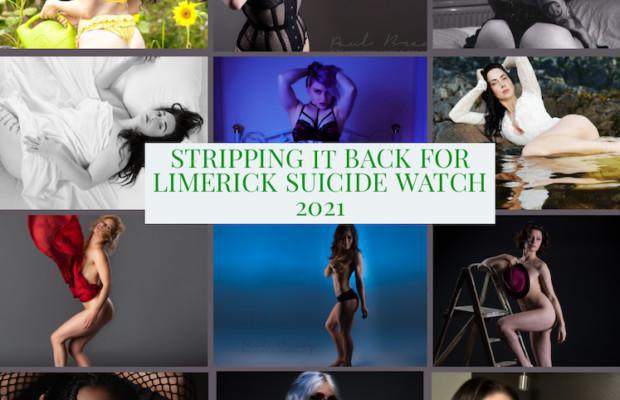 https://www.ilovelimerick.ie/stripping-it-back-2021/